This November, Charlie proposed to his girlfriend of four years, Emily, and the pair could not be more excited to tie the knot. However, Charlie proposed while they were on a romantic weekend away in London and so their family and friends were not there to celebrate with them. Therefore, they wanted to hold an engagement party to celebrate with their family members and close friends at home. They invited all their guests round yet were concerned about how they were going to provide enough food for everyone. Therefore, they decided to hire the Hog Roast Wrea Green team to cater for their guests at their party.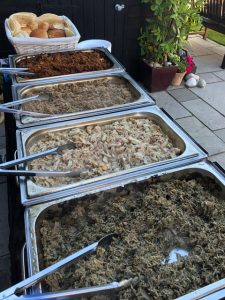 On the afternoon of the party, the Hog Roast Wrea Green team arrived and set up their equipment in the couple's garden and began slow roasting the couple's chosen menu. The guests began to arrive and the couple received dozens of congratulations for their engagement. Once that party was in full swing with the guests mingling with drinks, the Hog Roast Wrea Green team served up the buffet. The guests enjoyed a fantastic selection of slow roasted meats spiced with a variety of flavours. In addition, they were provided with a brilliant range of side dishes and snacks. Charlie and Emily's vegetarian guests enjoyed the options they were served with.
The couple's engagement was a great success and all their guests enjoyed the vibrant atmosphere, boosted by the show of the Hog Roast Wrea Green team cooking the roast. The food was enjoyed by everyone and the guests especially liked the rustic theme of the hog roast while the couple was pleased that there was something for everyone at the buffet. Overall, Charlie and Emily were also very impressed by the service provided by the Hog Roast Wrea Green team and said they could not have asked for a friendlier team. They said that they would definitely use the Hog Roast Wrea Green team again at their wedding after party and they could not wait to see the team again. The engagement party was the best way to kick start the couple's road to married life and it thoroughly enjoyed by everyone.