Has this year brought the return of the roaring 20s we thought it would when we first toasted in the New Year? No, definitely not – but that doesn't mean there's no cause for celebration! Whether it's a wedding, birthday or even a baby shower, thanks to Hog Roast Stretford, you can still mark those special occasions properly with a memorable family-friendly feast. After all, nothing brings people together quite like a traditional hog roast does and if anyone knows their way around a spit-roast you can trust that it's our multi-talented crew!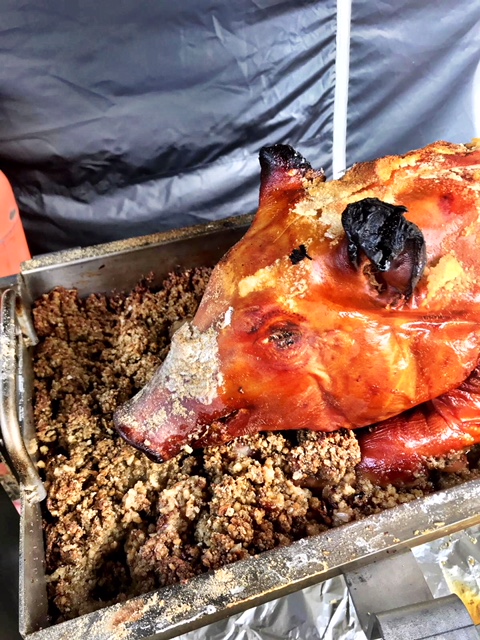 Now that we have further expanded our services to include deliveries, our phones at Hog Roast Stretford HQ have been ringing off the hook every day with people keen to indulge in our irresistible spreads, and after falling in love with the flavour-rich dishes included in the Gourmet food package, Nathan and Sophie called again last week to place another booking for the future.
With their 5-year wedding anniversary coming up at the end of the month, the couple were keen to find a way of celebrating that didn't break the rules, and after hearing about our rental option they knew they had to try it for themselves.
If you don't know, our hog roast for hire service allows you as the client to take full control of your event. The Hog Roast Stretford team will get you up-to-scratch with our training seminars, and after that, you will be able to effortlessly slow-roast any meat you can get your hands on with the help of one of our hog-roasting machines. For Nathan and Sophie, our catering manager had recommended our smallest machine which is also the most cost-effective choice we have on offer. The couple agreed this would be perfect for the cosy event they have planned, and for the meal itself they are going to serve our classic hog roast spread, only this time in place of a whole pig, pork joints will be used.
So far, Nathan and Sophie are really pleased with everything Hog Roast Stretford is doing to accommodate their special day, and until their event rolls around, our catering manager is on hand to answer any questions they may have.