Here at Hog Roast Oldham we have catered for many equine events, as our style of cooking is ideal for feeding a lot of people superior-quality food at outdoor events. So, when we were asked by the organisers of a local show jumping event to do the honours for them, we also jumped at the chance. The difference this time though, was that this was a junior event, with all of the competitors being under the age of 18! Whilst we have seen a lot of adults in action on horseback, we had never seen a junior event and we were looking forward to being impressed by the equestrian accomplishments of the horse-loving youngsters!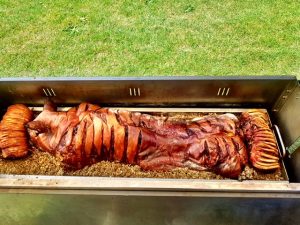 We arrived before the gates opened to the public to make a start on preparing our ethically-reared pork, so it would be ready when the show started. As we cooked throughout the morning, the field was a hive of activity, with horseboxes arriving left right and centre and lots of last minute grooming taking place to ensure the horses looked their best when it came to their turn in the spotlight. The Hog Roast Oldham team also made sure our serving table was looking its best, with a tempting array of freshly prepared salads to accompany our high-quality pork, which was a welcome sight indeed for the spectators and competitors alike!
We watched in awe as children as young as 10 were confidently controlling their steeds and leaping majestically over fences without putting a foot (or a hoof!) wrong and it was lovely seeing the winners being rewarded for their commitment and skill with rosettes that would not doubt take pride of place above the mantelpiece at home!
The budding show jumping champions also thoroughly enjoyed their other treat of the day-a hot and hearty hog roast sandwich with crispy crackling and as much apple sauce as they liked, and to please their parents, plenty of nutritious salad to go with it! It was a very special day for everyone involved and for many, the highlight of their year. The Hog Roast Oldham team were very glad to have played a part in it and that we had been able to share our classic hog roast with so many people!