Regardless of the type of party or event that you might be planning, Hog Roast Heywood will impress your guests with both our tasty food and top-class service, and you may be surprised at how easy we are on your pocket too. A scrumptious hog or spit roast goes a long way to feed a large group of people and we often leave our customers with plenty of leftovers for later.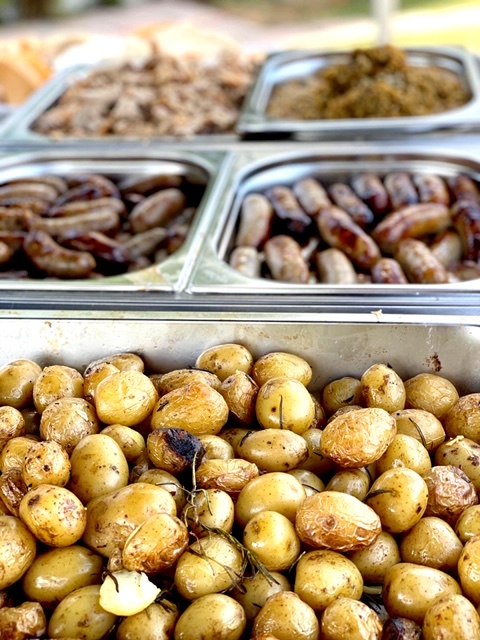 Nevertheless, even if you're hosting a special occasion for a small group of people, our experts will do you proud and wow everyone with your choice of menu, whether that's just one of our amazing mains, like a traditional centrepiece hog roast or spit-roasted meat, or much more instead. We've spent a long time refining our menus to include plenty of choice and variety, from specialty menus like our Southern Slow Roast and Loaded Fries, alternative dishes to cater for special diets or additional ones like starters, canapés, sides and desserts. Whatever your wants and needs, Hog Roast Heywood will fulfill them.
Over the weekend, our highly-trained professionals catered a formal wedding reception meal for fifty guests, where we were asked to serve several courses. The main feature was a hog roast to be made into pigs in buns, so once we arrived at the lovely hotel venue, our chef prepared the meat by covering it in plenty of water (to keep it moist during the cooking process) and massaging in lots of salt (which makes the crispy crackling that you know and love). Sometime later, we made several canapés, some side dishes and two desserts, and by the time everyone started arriving, we had a great feast prepared.
We welcomed the bride, groom and guests with champagne and canapés of chicken satay, pâté en croûte, smoked salmon and fillet of beef, and then a sit-down starter of tomato soup and crusty bread. Following the main of piles and piles of Hog Roast Heywood pigs in buns, wedges and mac and cheese, we weren't sure if the guests could manage dessert, but our options of profiteroles and summer pudding also went down a treat. By the end of service, everything had been completely devoured.