March had arrived and it was the annual ladies night at the lodge in Woodley. There was a lodge meeting in every large town as it was a big club. This was a special evening that was organised by the president that year. The men had a meeting in the lodge once a week organising events for charity and socialising and this was their way of thanking their wives for being understanding and patient over the past 12 months.
The evening consisted of a 3 course meal provided by Hog Roast Woodley followed by a raffle where prizes had been donated by members and then entertainment to follow for the rest of the evening. This year a local group were going to provide the entertainment. They were a four piece group with one on drums, two guitarists and a singer. Their music covered a wide range so were able to provide the appropriate songs for such a special occasion. There was a dress code which was black tie and evening suites for the gents and evening gowns for the ladies.
It's not very often that ladies get to dress like this any more so they were encouraged to by their husbands to make the most of it! A photographer was on hand when each couple arrived to catch the event on film as a lovely momentum for everyone to remember the night with. One of our waitresses from Hog Roast Woodley was ready with a glass of prosecco to great everyone on arrival. As the time to sit down for the meal arrived, name card cards were set at the tables and a little gift was placed by every ladies setting as a thankyou from the gents. All the ladies got the same gift which was a lovely crystal tea light holder.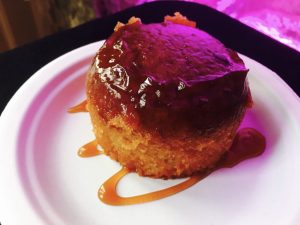 The food had been prepared by Hog Roast Woodley who have done many of these occasions for them in the past. As it was a formal 3 course meal the best crockery and cutlery were used. For starters fresh homemade soup or Parma ham served on warm new potato & walnut salad were the choice. Followed by spit roasted lamb seasoned with rosemary and served with mint and a mustard & dill sauce or spit roasted turkey with fresh cranberries and sage & onion stuffing. This was served with new potatoes and seasonal vegetables. For dessert handmade individual dark chocolate tortes with a light crunchy base or sticky toffee pudding with a yummy toffee sauce all served with cream. Followed by tea, fresh coffee and mints. The meal was a great success as usual from Hog Roast Woodley and with great entertainment to follow a good night was had by all.