We recently catered for a 60th birthday party that was held at the customer's house; a group of siblings had arranged this party as a surprise for their father and knew that he had previously enjoyed our food at a wedding he attended and so they wanted a hog roast in Withington in their own back garden.
We arrived at the residence early in the day to begin setting up, whilst we were working we chatted to the brothers about their dad and they were gracious enough to even help us with setting up for their party.
We had just put the finishing touches on our dining tables as guests started to arrive, we made an effort to try and chat to everyone attending and were pleasantly surprised that a few of them had tried our famous hog roasts before.
We waited outside for the guest of honor to arrive with his daughter, all the guest excited to see the look of surprise on his face and us cooking and quietly preparing the rest of the food.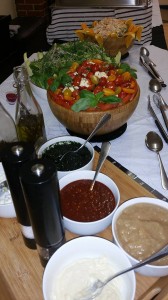 When the center of everyone's attention finally arrived, everybody there was touched to see his reaction to the surprise, it was such a sincere moment to see him realise what his children had done for him and there was not a dry eye in the place as he hugged all his friends and family. The best moment for our crew, however, was seeing his excitement when he saw the caterers that his children had ordered. He practically skipped over to where we were all working, as he watched us prepare the food he started up a conversation with one of the waiting staff. The whole event was very informal, with guests mingling and taking cheeky little tastes of the salad before the meat was ready to be eaten.
Everyone was ecstatic when we announced that the food was ready to be eaten, and we were pleased to see the guests excited to eat the food that they had eagerly been waiting.
By the end of the day we had very content and extremely full customers, who were full of compliments about the food. We love seeing happy customers, and with how much we enjoyed that day it was hard for us to finally leave all of those lovely people. We made sure to say a final happy birthday to the guest of honor before we made our way back; all of us feeling fulfilled by seeing how happy are food had made people. Overall the Hog Roast in Withington went down a treat!