We recently got a call from a new customer who had been recommended to us by a family member. Surprised that we could cater her small, intimate dinner party, Siobhan asked us all about our different menus and catering options for a party of seven. We don't mind the amount of guests at all, even if it's a hog roast for 10 people or a barbecue for a thousand! We can honestly manage any number of guests that you throw at us, so don't be shy in asking us to cater for a small affair as there is no minimum number, only a minimum price.
As Siobhan was new to hog roast catering, she wasn't sure at first which option to choose for her dinner party and we do have many choices. Although we have lots of different menus for you to look at, you can even create your own bespoke one if you have different ingredients in mind. Plus we don't only provide hog roasts, despite our name; if you want a spit roasted lamb or chicken, a vegetarian quiche or a whole roasted salmon with avocado, we can do that too. Savoury canapés served as guests arrive to a formal sit-down wedding? Done. A gluten-free or vegan option? Not a problem at all.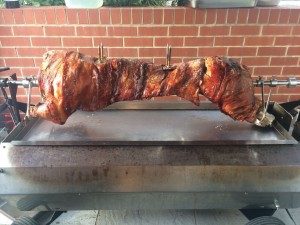 Arguably our most popular option, hog roast rolls are a firm favourite of mine. As a chef, it is an absolute pleasure to see the looks on the guests' faces as they tuck into our soft bread buns, filled to the brim with hot, fresh, juicy pork that we cooked at the venue, topped with pieces of crispy crackling, our homemade stuffing and tangy apple sauce. Siobhan was sold on the idea and decided her dinner party would feature our hog roast sandwiches in Pendlebury.
I arrived at Siobhan's house early Sunday afternoon, ready to slow-roast the small hog for a few hours in the back garden. I can easily handle a party of seven by myself, so once the pig was cooked perfectly and was resting, I prepared the fresh salads, sliced the bread rolls and dished out the apple sauce and stuffing. I was applauded when I got the carving knives out and it was finally time to feed the small group of happy but hungry dinner guests. Everyone commented how delicious the hog roast in Pendlebury had been.