This weekend has had some cooler days, thankfully, and a little rain has helped chill things, too. The wet weather didn't do anything to spoil Marian and John's wedding anniversary hog roast in Eccles on Saturday, when we catered for their indoor party at a local village hall to celebrate 40 happy years of marriage.
It wasn't the couple's first hog roast with us, as they asked us to cater a birthday party last year and also hired a roasting machine from us for a DIY roast recently. We must be doing something right to get such great repeat custom!
For their Ruby wedding anniversary, Marian and John's two daughters would be decorating the hall and providing the evening's entertainment, while their parents were given the task of booking the catering. They knew immediately that they wanted a hog roast in Eccles from us as the one at John's birthday party had gone down a treat, but being their special day, they didn't want to cook themselves, hence asking us to cater again.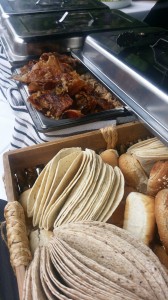 The menu they asked us for was simple but delicious; we would cook a tasty, locally sourced pig and serve it with soft, floury rolls, hot stuffing, apple sauce and crispy crackling. In addition, there would be more of the couple's favourite foods being served by other caterers, including an Oriental spread with Chinese, Japanese and Korean dishes. I was quite surprised by this, until I learned that after their children had left home, John and Marian spent some time in Asia teaching English and grew to love the different cuisines. One of their favourite dishes back home has always been roasted pork, though, so they both knew they wanted a hog roast for this celebration, too.
On the day of their anniversary party, we arrived nice and early with a large hog that we slow-roasted for several hours. As more and more guests arrived, the wonderful smells of our food and other dishes around us grew stronger and stronger. After some emotional speeches by family members, the queues started to form and we carved and served our famous hog to a room full of very satisfied guests.