With our new Alfresco Menu, Hog Roast Middleton can impress your guests with something a little different added to something you probably already know and love – a traditional hog roast centrepiece. Our expert chefs have spent years perfecting our signature food, using trusty hog roast machines that we designed ourselves and hand-build in our Lancashire factory, using locally-sourced meat from trusted suppliers of butchers and farmers.
Once the hog has cooked to perfection, after sizzling away for hours on end, slowly but surely, we carve off our famous salty, crackling, slice up the soft, moist meat, and serve together with our homemade duo of apple sauce and sage and onion stuffing, and it's a mouthwatering combination that many of our customers and their guests dearly love and ask us to prepare, cook and serve again and again.
Nevertheless, our Hog Roast Middleton Alfresco Menu gives you even more delicious food as well, with antipasti platters to start and scrumptious desserts to finish, and we're sure that everyone you invite to your next special occasion will be talking about this menu for a long time to come or even dreaming about it!
While your delicious hog is still cooking away, we serve freshly-prepared, rustic-style platters that feature meats of salami and Prosciutto Parma ham, three fine cheeses of Gorgonzola, Parmagiano and mozzarella and artisan breads – ciabatta, herb focaccia and breadsticks. These are enjoyed alongside balsamic vinegar and extra virgin olive oil, which all complement each other beautifully, Italian-style.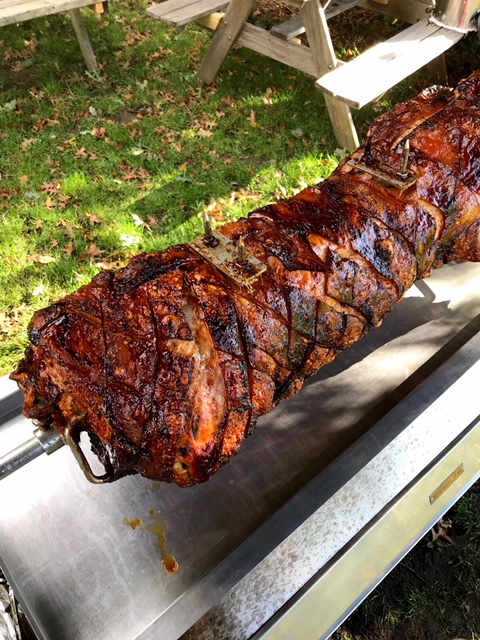 Once the hog roast meat has had a rest, our chef carves away and we then serve with all the trimmings you know and love, alongside your choice of potatoes (either garlic and rosemary roasted new potatoes or buttered new potatoes with chives), fresh-baked rolls and wraps, as well as salads (our homemade gourmet coleslaw, a tomato and mozzarella salad and seasonal leaves). Then we serve two yummy puddings, such as profiteroles, cheesecake or summer pudding.
Whether you decide on this menu or one of our lovely others, Hog Roast Middleton can make all the difference between your next party or event being okay and spectacular, so call us today to see how.