March of the Mods is a series of national music events that is organised in March each year, raising money for Teenage Cancer Trust and Hog Roast Reddish were delighted to be invited to deliver the catering services for their event in this area with over 400 guests to feed!  With 5 different menus to choose from for this type of event, Hog Roast Reddish discussed the requirements with the client well before the event, and they decided that the "Our Firm Favourite Classic Slow Roasted Hog" served in roll or wrap was the most suitable option.  We understood that the artists and bands were setting up and sound-checking by early evening and we liaised very carefully with the client a week before the event to ensure that a time slot was available for us to arrive and set up before the audience arrived.
March of the Mods is now in its sixth year and in 2017 it raised over £350,000 to support young people with cancer and has become a regular event for many Mod music lovers' calendars, many of whom regularly ride their scooters to different March of them Mods events throughout the country in support.  For Hog Roast Reddish it was clear that this was not any regular music gig but a very professionally organised event!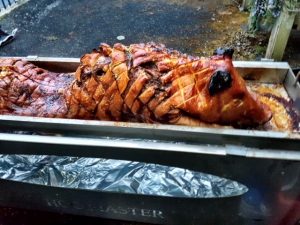 Once we arrived, we set up in no time at all and some of the artists, stage crew and band members immediately came over to sample some of our delicious hog roast and commented that it was delicious – even saying they would give us a "shout out" when they were performing!  Once the event started proper, Hog Roast Reddish were kept incredibly busy for all of the performances with audience members of all ages commenting on how delicious the hog roast tasted and with many other compliments about our service and food and with many hoping that we would be back to the event next year and hoping to see us at other events.