Hog Roast Ardwick were thrilled to be asked to cater for around 200 guests in the grounds of a local hospital which was holding an "It's a Knockout" event competing with other healthcare trusts and raising money for a new Proton Beam machine in the fight against cancer.
There have been many incredible technological and pharmaceutical advances over the past ten years to combat this disease and some of the staff at Hog Roast Ardwick have personal experience of types of treatment required.  Proton Beam Therapy is the latest cutting-edge device that can target tumours without destroying other tissue but the machine costs millions of pounds and many healthcare trusts hold fund raising initiatives to help raise money to buy one; Hog Roast Ardwick were honoured to be part of this initiative.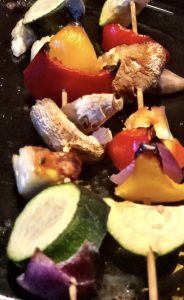 We have several menus available for an event of this type ranging from informal, stand-up dining with disposable cutlery and plates to more formal sit-down, China plated and formal service events; clearly this was going to be very informal with staff and guests alike eating their delicious hog-roast whilst donning shorts and possibly covered in mud and goo!  A traditional Hog Roast in a Roll menu was the preferred option but we were also aware that a vegetarian selection would be required and hence a delicious salad option and veggie skewers were also available.
When we arrived, the event was already in full flow but there was plenty of time to set up; it must be said that the weather could have been kinder but I'm sure that the drizzle helped keep the participants cool – it certainly didn't deter them nor ourselves and once our canopy and equipment were set up and the hog started to roast, lots of people came over to see what smelled so delicious.
Once we started serving, we had a constant stream of customers all marvelling at the sights and smells of what we had to offer – the "piece de resistance" was the hog but we also had lots of compliments about the veggie skewers and salads and everyone went away fully satisfied.  All in all, it was a great success and we look forward to any future events like this that we can support.