I contacted Hog Roast Royton a few months ago to enquire about their services. I wasn't sure about their menu options or if they had vegetarian meals available. I found their number easily online and gave them a call. At the time, my own birthday was coming up and I wanted a caterer to host the event so I could enjoy some champagne with my friends without the worry if cooking for everyone.
After a little while on the phone to the team at Hog Roast Royton, I was delighted to have booked them for my event. I explained to them that I wanted my birthday at home in my large back garden where I could relax and not have to pay for taxis here and there. They said they were happy to cook at my house and provide the food. I chose the menu of spitted hog, bread rolls, salads, veggie skewers and herb potatoes. I wanted something I could enjoy as well as my guests and I knew a few of my friends were vegetarian.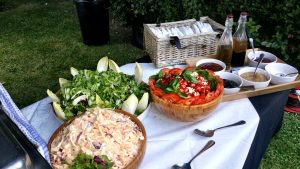 On the day of my birthday, two members of the team from Hog Roast Royton arrived at my house mid-morning to set up their work stations. They brought a large, professional roasting machine with them to cook the meat to perfection. Soon enough, my back garden smelt of rich, aromatic meat and my guests were delighted. We lined up around the work station and the hog roast chef carved the tender meat and placed it on our plates. I had never tasted anything quite like it. Even my veggie friends piled their plates with pepper skewers, potatoes and salad. The whole day was a delight.
After we had all devoured the delicious food, the team tidied up their work stations whilst having a chat with all of us. They made a cold British day warm and cosy. Their service was friendly and professional at the same time. My sister decided on the day that she wanted to book them for her very own birthday later this year.