Covid-19 caused the entire country to come to a grinding halt, but now things are slowly getting back to normal. Hog Roast Urmston's latest event was a sign that things are slowly getting back to normal for this time of year. The event was a private campsite that was having a small party for their first campers to celebrate them reopening.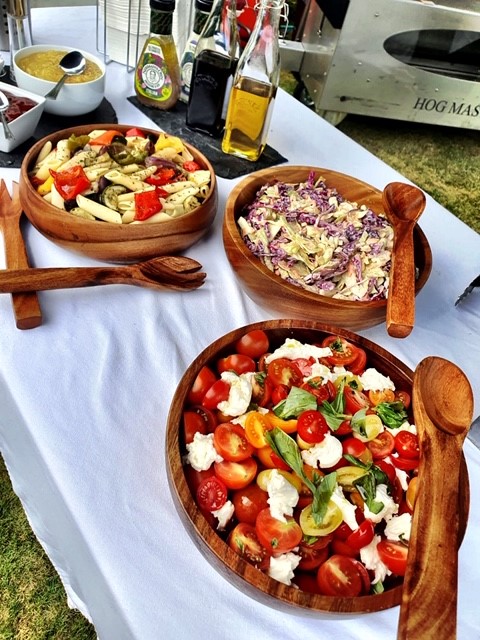 The campsite owners wanted a nice and simple, but still very much fun and filling, buffet for their first 30 campers to enjoy on the first night of the campsite being opened back up after Covid. The clients worked with the Hog Roast Urmston team to come up with a menu that was exactly what the clients wanted.
The buffet for the event centred on a Classic Hog Roast, this was a slow spit roasted pig that was served with delicious crispy crackling, homemade sage and onion stuffing and a sweet apple sauce. Alongside this there was also BBQ Beef Burgers and Chefs own gourmet sausage, with a wide range of soft gluten free rolls. That wasn't all however, if these meaty treats weren't to everybody's tastes then there was still lots of other platters to choose from! There was a large bowl of mixed salad, a mountain of piping hot skin-on potato wedges, grilled vegetable skewers and grilled vegetable and halloumi skewers. Rounding off the buffet was an assortment of dips and condiments.
All of these dishes were made fresh at the campsite on the day of the party. The Catering Manager from Hog Roast Urmston set up all the catering equipment and serving table before getting straight to preparing all the dishes when he arrived at 1pm, so that when it was time to be served at 6pm all the food was ready to be enjoyed. As well as providing and cooking all the food as part of the catering package the Hog Roast Urmston team also provided disposable crockery and cutlery for the guests to use.
Once the buffet had been enjoyed by the 30 happy campers the Chef quietly tidied away, taking all rubbish away from the campsite to dispose of safely. It was a very relaxed party that the clients and their campers absolutely loved.