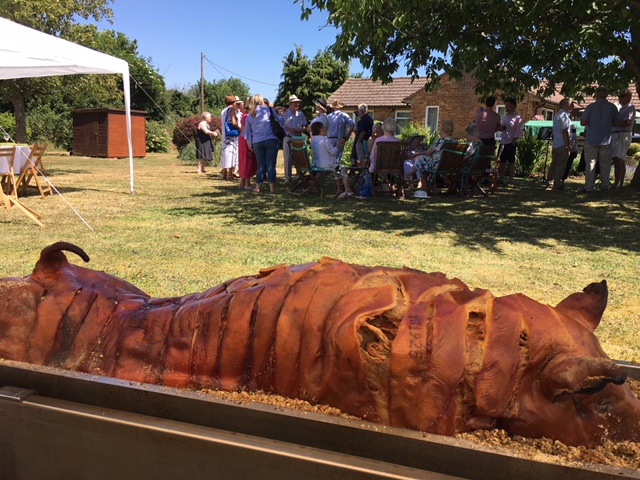 Hog Roast Middleton can cater any kind of special occasion that you may be planning, as we're highly experienced in providing mouth watering, fresh food for everything from weddings to birthdays and corporate functions to christenings and retirement parties. Whatever you have in mind, we have plenty of choice and variety on offer in order to satisfy everyone you're inviting, with options for special diets if needed, as well as alternatives to cater for different personal tastes and various additional dishes in case you're thinking of having a multi-course menu.
Your menu is all about satisfying you and all of your guests, not just the majority of people, and with Hog Roast Middleton, we've got it in the bag, with all kinds of delicious possibilities available. So, for example, we have meat-free mains for vegetarians and vegans, such as halloumi and veg wraps with sweet chilli sauce and Tzatziki or BBQ pulled jackfruit buns with slaw, while other diets like gluten-free can also easily be catered with advance notice. If you also prefer something different to our signature food, we can spit-roast your favourite meat instead, like turkey, chicken, beef or lamb, and we have our own tasty standalone menus on offer, including our Southern Slow Roast, Loaded Fries, Alfresco and Traditional Barbecue.
Our chefs and catering assistants have catered many different kinds of parties and events over the years, both casual and formal, from barbies in back gardens to posh affairs in luxurious venues, so regardless of what you're organising or its formality, we can cater with ease. If you're thinking of having more than one course served, you can add your choice of handmade canapés, starters, sides or desserts to your main, whether you want one or two or a great feast of courses instead. It's all up to you, though our team can always help you to decide when you book if needed.
So whether your next special occasion is an informal get-together with a few family or friends or a swanky party with hundreds of guests, Hog Roast Middleton has the food for you, whatever that may be!