With the Easter holiday weekend comes plenty of time to eat and celebrate amongst friends and family. Of course, when you're on holiday you don't want to be doing the heavy work of cooking up a meal for everyone which is why for your Easter weekend events you're going to be bringing in the expert roast catering services of Hog Roast Gorton. With our stylish foods and catering expertise you and yours will be dining out on the best catered service in the UK, enjoying the most exquisite roast menu complete with flair and spectacle. No other menu comes close!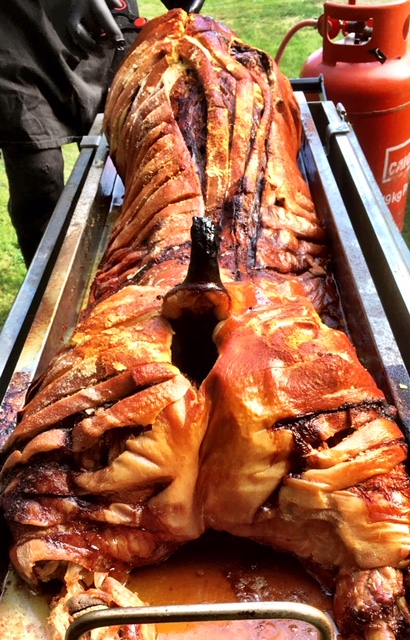 It is often traditional to eat roasted lamb for your Easter lunch, and with Hog Roast Gorton's specialist proficiency in roast dining you  know you'll want to come to us for your lamb fill. Our slow roasted lamb joints are a must for your Easter events. For one we source our lamb joints from the very best farms and sources found locally in the UK, and then with our top chef team the meat is prepared and seasoned perfectly, ready to head into one of our excellent hog roasting units to be slow cooked for hours until lovely and juicy with just enough crisping for that satisfying texture. Lamb is an extremely tender meat, and with our spit roast style of cooking it remains that way with melt in your mouth texture and beautiful flavouring in every bite. You won't find a dry bite anywhere near our roast menus! Our lamb is studded with garlic and rosemary and served with the classic Yorkshire puddings and our homemade mint sauce. Delish!
You can then enjoy your Easter menu with an accompaniment of potatoes prepared every which way: buttered, roasted new potatoes, dauphinoise style, or even just a handy helping of fries to go along with a vibrant selection of seasonal leaves, homemade coleslaw, heritage tomato and buffalo mozzarella salad, and a classic Caesar salad.
So, enjoy your Easter weekend the right with Hog Roast Gorton now! Our stylish event catering services are assured to be a delight for all on your holiday weekend.