Last weekend the Hog Roast Cheadle team found ourselves surrounded by collectables and bargain hunters when we were asked to provide some of our superior outdoor catering services for a local antiques fair. The first one of the year is always busy and the organisers wanted to treated the large crowd of antiques lovers who had come from far and wide to some great grub whilst they spent the day visiting stalls looking for something special to take home with them.
They chose Hog Roast Cheadle because we are known throughout the local area for our ability to provide high quality, freshly prepared food for large outdoor events without scrimping on portion size or cutting corners in the quality or preparation of our super locally-sourced ingredients!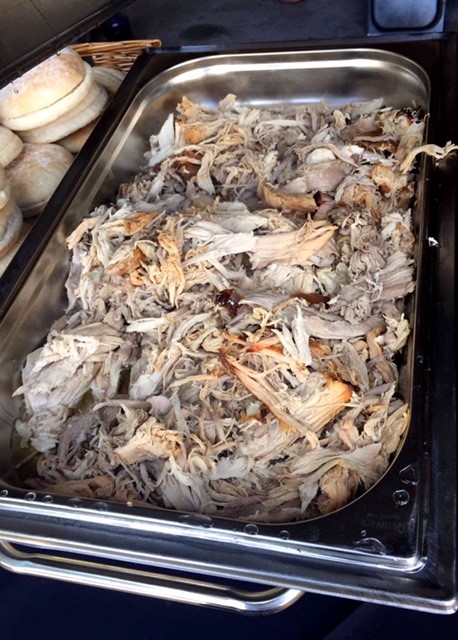 Hog Roasting is also a very economical way of feeding a lot of people and when it's done by us, flavoursome and perfectly cooked meat is always guaranteed!
We arrived at the site before the sun had even come up and joined the rest of the stallholders whilst we got started on our own preparations. Whatever the size and scope of the event we are catering for, we always arrive several hours before our stipulated service time, to allow plenty of time for our tender slow-roasted pork to be absolutely spot on by the time our hungry diners arrive!
The event attracted a large crowd and shortly after the gates opened, we already had a big queue of people all eager to try our tasty fare! With our usual precise timing, our skilled chef was carving the meat right on cue, whilst our catering assistants were taking orders and serving up our hot and wholesome hog roast sandwiches with crunchy crackling, tasty stuffing and sweet apple sauce!
The antiques fair organisers told us they were very impressed with the quality of our food and efficiency of our service and given how popular our serving table was throughout the day, it was obvious the attendees agreed!
All in all, it was another great day for Hog Roast Cheadle to demonstrate our outdoor catering prowess and make a lot of people very happy with our unbeatable slow-roasted pork!