The sun shone as we set off on Saturday and the traffic was starting to pile up as we joined the motorway heading north with Hog Roast Audenshaw. Our van was packed bringing with us a mountain of food to cook at a BBQ. We were catering for an 18th birthday celebration. We had lots to prepare and cook so made sure we left early to avoid the traffic and we arrived in good time. The birthday girl's parents had hired out a hall for the celebration and we found it very easy to find you couldn't miss it, it was huge! The family were already there as we arrived hanging up birthday banners and balloons and we were shown to a lovely big space to set up.
We firstly uploaded the machines and then started to prepare the meats. BBQ chicken, sticky ribs and sausages. We made a lovely bbq spicy sauce for the ribs and soon the meat was cooking away nicely and the smells were just amazing! We brought a huge selection of the finest breads white and brown rolls, seeded buns and baguettes all baked fresh. Soon we were chopping, slicing and dicing the salad material and making our lovely dressings to accompany them. Fresh bowls of coleslaw were made and just as the birthday girl arrived we were ready to serve.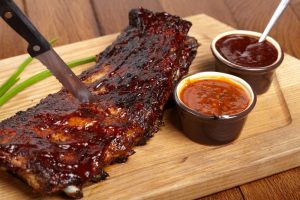 The young girl came straight over to us and gasped in amazement at the sight of all the delicious Hog Roast Audenshaw food and we said it was only right we served her first. Soon everyone was digging into the food and the room fell quiet, as all were so busy eating! I don't think I have ever seen a group of teenagers that quiet before and a huge appetite they had too! The meat on the ribs just fell apart and we had lots of paper napkins at hand as it can be messy business eating a rib. The chicken was moist and so succulent and was a firm favourite with the guys. We chatted to the youngsters who were a friendly bunch and they all agreed that our food was first class! We started clearing away as the youngsters enjoyed the party and left the remainder of food out for them to enjoy on the table. Never have we witnessed food gone that quickly they sure had good appetites as we left we were approached by a young man who asked us about our menus we handed him one of our leaflets and left a pile at the side for guests to take. The family were so grateful for our efforts but it takes us no effort as we work with ease as we love our job so much at Hog Roast Audenshaw.