Hog Roast Eccles has a good relationship with many local businesses and as we are classed as a takeaway service, we are open for corporate events if you want us.
Do you want to treat your staff? Perhaps as a thank you for their perseverance during the pandemic, a well done for their continued hard work, a goodbye for now or a welcome back, maybe even a celebration of the company itself. Hog Roast Eccles can provide that treat.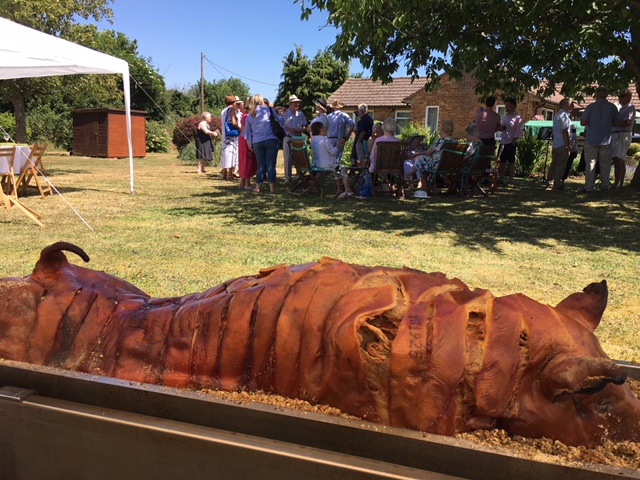 Hog Roast Eccles's set up consists of a 3 by 3 metre gazebo that can be popped up wherever you require it. Serving tables and cooking equipment is then set up under the gazebo. To ensure that the serve is takeaway and covid-safe, the catering manager will serve the food in eco-friendly wooden takeaway boxes and it'll be put at the end of the table so that it is a non-contact collection. A sanitising station will be set up so that staff members can sanitise their hands before they eat and a 2-metre barrier placed in front of the serving tables to ensure social distancing. The catering manager will wear a mask and handle all food with gloves. It is important to us to provide a safe service for your staff and to keep our own staff protected.
What can you get for your staff? Any of our menu's that take your fancy! How about a gourmet traditional hog roast? It is super delicious, super easy set up and offers a fantastic experience for your staff with succulent pulled pork, flavoursome sage and onion stuffing, a selection of rolls and sauces. Chips and salad can even be added to make it a proper meal. Perhaps you need more options for your staff? Then our southern slow roast menu would serve you well. A selection of 3 meats are chosen, all slowly roasted for that melt in the mouth consistency. The options are as followed; BBQ pulled pork, BBQ beef brisket, BBQ ribs, minted lamb and Cajun chicken. All as equally as scrumptious as the other so whatever you pick, you're in for a treat! This menu also includes various sides such as classic Mac and cheese, halloumi skewers, sweet potato wedges, Greek salad, to name a few. Just let us know what you require and we'll sort you out.
Book now to treat your staff