Recently, Andrea hired the Hog Roast Tyldesley team to help her to celebrate her 50th birthday party. She hosted the event at a local venue which she had hired out for the occasion. The team arrived on time, several hours before the service to begin cooking and preparing the food so that it would be ready on time for Andrea's guests. Andrea requested for the food to be served as a buffet for the guests to enjoy and to be served throughout the early evening so that her guests had chance to return to the buffet table for second helpings.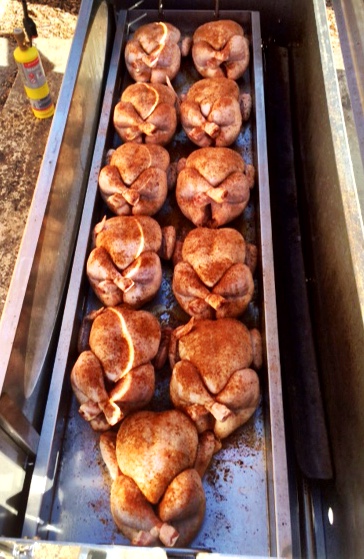 Andrea chose the Hog Roast Tyldesley team's Menu Two, the Southern Slow Roast Menu. The menu offered a fantastic variety of different meats and sides which provides a great selection to suit all of Andrea's guests. Andrea selected three main meats including the Cajun spiced whole roast chickens, fall off the bone Louisiana sticky pork ribs and the Creole pulled quarter of spiced lamb which were all cooked fresh onsite in Hogmaster machines by the team using locally sourced meat. The meats were cooked to perfection by the Hog Roast team's Head Chef who ensured that the meats were beautifully tender for the guests to enjoy. The meats were served with fresh bread rolls and wraps to ensure that the team maintained the casual atmosphere of the party.
Alongside the meats, the team also served some of their classic hot sauces including the Jack Daniels smokey sweet BBQ glaze, hot pepper sauce and bourbon BBQ sauce. In addition, a vegetarian option of grilled vegetable and halloumi wraps with Tzatziki sauce was served as an alternative to the meats. Accompanying the main meats, the Hog Roast Tyldesley team served corn cobettes, macaroni and cheese, Cajun spiced wedges and a Greek salad. The guests all appeared to have a fantastic time and Andrea was thrilled with the success of the party. The Hog Roast Tyldesley team was overjoyed with the success of the Hog Roast and were pleased they were able to make Andrea's milestone special.