After being married for 25 years amazing years, Rob and Zoey were keen to renew their wedding vows for their romantic anniversary. Therefore, this August, the couple had arranged to renew their vows at their local church in which they were married in a quarter of a century before. After the ceremony, Rob and Zoey wanted to return to their home and enjoy a small get together to celebrate with their close friends and family, most of which had been witnesses to their summer wedding in 1993.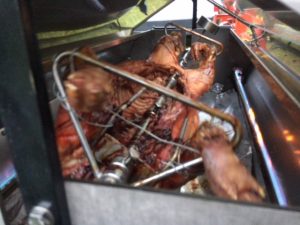 However, they didn't want to return from the wedding and have to sort out a huge buffet as they were ready to enjoy a relaxing anniversary. That's why Rob and Zoey were pleased to hire the Hog Roast Failsworth team to do the job for them. After reading some fantastic reviews online, Rob was keen to try out the Hog Roast for himself. The couple instructed the Hog Roast Failsworth team on how they were to set up in the garden so they could cook the Hog Roast and have it ready for their return.
The versatility of the Hog Roast Failsworth team allows them to set up their small stall at any venue so they can provide their Hog Roast at any time in most locations to give their clients the best experience of their Hog Roast. It is valuable to have the team's stall located in the venue as they excitement of cooking the meat, combined with the scents and mouth-watering appearance allows your guests to build anticipation for their meal as an atmosphere grows.
In addition, Rob and Zoey thoroughly appreciated the friendly and talkative nature of the Hog Roast Failsworth team as they provided a great atmosphere for them to enjoy as they chattered with the team on their beautiful anniversary. The buffet was thoroughly enjoyed by the couple and their guests and Rob was very pleased with his decision to hire the team. The party centred around the Hog Roast put the cherry on top of Rob and Zoey's fantastic anniversary.