Hog Roast Salford catering is renowned far and wide, and not just for our delicious food offerings, as our highly-trained and experienced chefs and team members always go the extra mile to ensure that our customers' needs are fulfilled. Regardless of the type of special occasion that you need catering, whether it's your wedding day, a retirement party, christening, conference or milestone birthday celebration, or anything else, we have plenty of choices so that everyone you invite to your celebration or commemoration can always enjoy our food.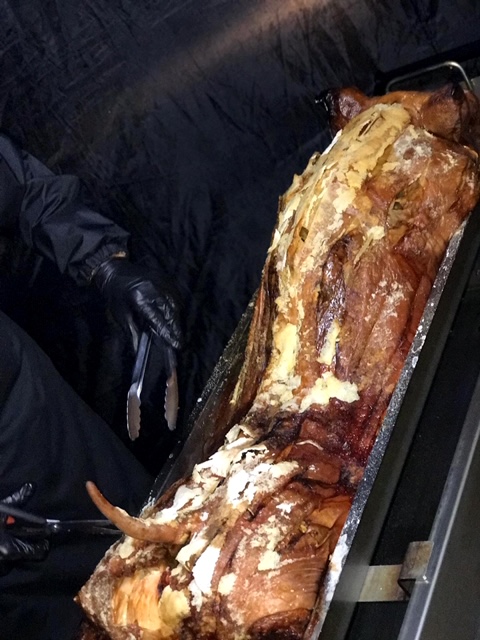 In terms of dietary requirements, as long as you let us know in advance, we can make sure that vegetarians, vegans and those following a plant-based diet have a suitable, tasty dish of their own served, and that goes for other diets too, like guests with a gluten intolerance or allergy. If you need personal tastes or bigger appetites catering, we have an array of alternative meat dishes, as well as lots of additional possibilities, like hot or cold sides, starters, desserts or handmade canapés. Hog Roast Salford can impress your guests no end with our endless options and they'll no doubt be talking about our catering afterwards for a long time to come.
When Rob asked Hog Roast Salford to cater his son's birthday party at a local rugby club, he said he had been spoilt for choice with our menus and had been considering our winter warmer, which features meat, vegetables and potatoes of your choosing, as well as our scrumptious trimmings. He also thought about our amazing Southern Slow Roast Menu, which gives you three meats and four sides, as well as a vegetarian option if needed. Nevertheless, after asking many of his guests what they would prefer to be served, it was almost unanimous that our famous pigs in buns would be the perfect choice.
On the day of Rob's son's 13th birthday, our chef prepared and cooked a large, high-quality, local hog to feed more than forty people, and our catering assistants dished up our own apple sauce and stuffing, sliced the bread rolls and arranged the condiments and serviettes, and by 3pm, we had a feast ready to serve.