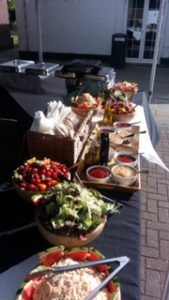 We just provided the catering for a corporate summer picnic, where a local business owner wanted to reward his employees with a fun day of games and lots of delicious food, including our super-popular hog roast in Stretford. This time of year is often the best weather for a picnic in this country, especially when outdoor games are involved too, but there's always the risk of that pesky downpour or a day that turns decidedly chilly later on. When planning the event, the business owner asked us what would happen if it rained; we can cater in any weather, to be honest, with gazebos and marquee tents, and often do so in winter and any time of the year when it rains or when the wind is howling. We can even cook a hog roast in Stretford indoors if there's a well-ventilated space. For this party, however, it was destined to be outdoors, in the grounds of the business, so we could always provide a large marquee to keep the guests dry.
The boss wanted to give all his employees a chance to mingle together in a non-work atmosphere, as he had noticed that at office parties they tended to stick to their usual groups. By planning a day of fun games, he wanted the different levels of employees working together while actually playing together, so a manager would be on the same team as an office junior and the company cleaner, for example. He wanted to bring them all together with fun and food – and we were there to provide the latter.
We arrived on the day of the picnic nice and early in the morning, as the food would be served at lunchtime on a break from the fun and games. A hog this size takes several hours to cook, so we set up the gazebo for the hog roast machine and serving table and prepared the meat for roasting. We'd also brought along a big marquee for the guests in case of the predicted bad weather, but thankfully the rain stayed away on this day. The marquee was still a good idea, though, to keep the sun off the employees while they enjoyed their pigs in buns, and enjoy they did, as the pig was stripped clean by the end of the day!