We've happily catered for huge numbers of guests over the years, and some of the biggest events have been for corporate hospitality. Whether you need us to cater a team-building event, an open day, a staff party or a posh evening do to impress your clients, a fully-staffed hog or spit roast can be a highly cost-effective way to do so, let alone something that your guests will remember for a long time to come. You'll probably already know that planning a large corporate event can be a truly stressful affair, so let us work with you to take the catering side off your hands. From your initial appointment to the big day itself, our professional staff will be committed to helping to make your event a big success, without any stress or drama.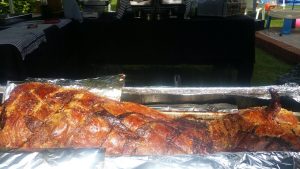 Hog Roast Carrington has solutions for every company, big or small, for any kind of corporate event that you may have in mind, as well as any number of guests invited. We recently catered for Leo's 220 guests at a large, local hotel, where his computer business employees mingled with top clients to celebrate a recent product launch. Leo asked us for our winter warmer menu, which meant slowly roasting two medium-sized hogs and cooking plenty of his choice of seasonal vegetables and potatoes, as well as providing a vegetarian option of our warm, homemade Spanish quiche and some side salads.
On the day of the event, some of our team arrived at the venue 7 hours before service, which sounds like a long time, but it takes a good few hours to roast a Hog Roast Carrington or two. The rest of the team would arrive nearer the time of service. After setting up the gazebos and serving stations, we prepped the fresh meat and set the hogs cooking, slowly but surely.
Some time later and it was time to add the fresh veg and potatoes to the machine. In this case, Leo asked us for mushrooms, Brussels sprouts, and carrots, as well as new potatoes and a whole heap of jacket potatoes. Just before we carved into the moist meat, the fresh salad leaves and coleslaw were laid out, as well as our homemade stuffing and apple sauce and some condiments. Then it was finally time to get the knives out and feed dozens and dozens of hungry guests with the Hog Roast Carrington.