This Christmastime, our Hog Roast Mossley catering experts are again offering our annual Festive Menu, which is highly popular for all sorts of parties and events, including winter weddings, family get-togethers and corporate functions, so whatever you may be planning, get booked in while you can! Time is flying by so fast (as it usually does at this time of year), so make sure that you have your Christmas meal all arranged in plenty of time and then you can look forward to sitting down and enjoying a delicious feast together with all of your guests.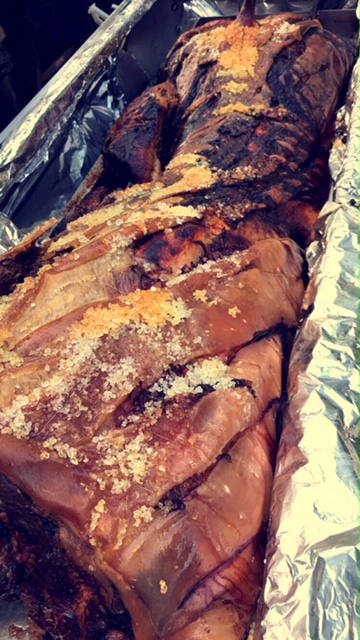 Our Hog Roast Mossley Festive Menu is an amazing way to get into the spirit of things and with plenty of homemade food that you'll surely be dreaming about for months to come. You get a choice of main course – either our signature food of a slow-roasted, free-range hog accompanied by trimmings of our crispy crackling and homemade apple sauce and sage and onion stuffing or whole flame-roasted turkeys with fresh cranberry sauce and stuffing – and either way, you get to enjoy it alongside several lovely sides and even dessert of mince pies and brandy cream, if you can manage it.
Whether you decide on a scrumptious hog roast or seasonal turkeys, you'll also get to dine on our homemade cauliflower cheese, as well as everyone's seasonal favourite of pigs in blankets and golden roasted potatoes that we prepare with garlic and rosemary, and no less than four seasonal vegetables of peas, green beans and glazed sprouts and carrots, and it all comes with lashings of our homemade gravy too. This Festive Menu is the perfect winter warmer but if you're concerned about having to cater for meat-free guests, worry no more, as we have a vegan alternative of Hickory BBQ pulled jackfruit served in a bun and dressed with slaw, as well as vegetarian wraps with chunks of grilled halloumi, veg and dips.
Call Hog Roast Mossley today and we'll book you in, even if you fancy something completely different. You can even design your very own menu if you prefer – just let us know what you're after and Bob's your uncle!