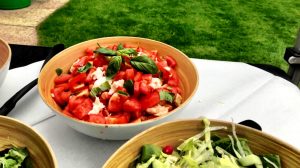 Since its establishment in 2003, The Great Manchester Run has gone on to become a major event in the sporting calendar and draws in a large crowd of spectators not just watching from the side lines, but also on television. Many people take part in the event to raise money for a charitable cause and Debbie and her friends, who were participating this year, were no exception. Desperate to raise money for a charity that was very close to all their hearts, the group of ladies got all of their friends and families to sponsor them, and with their running shoes and t shirts made especially for the event, off they went to Manchester to give it their all! Not all of their loved ones who had sponsored them were able to travel to Manchester to support them in person, so they decided to all get together to watch it on TV and to make the day extra special, they hired Hog Roast Trafford to provide some delicious post-run grub to help them celebrate their success!
The Hog Roast Trafford team got to work on the pleasant decked area of Debbie's mum's garden, as the 30 spectators gathered together inside, all eager to catch a glimpse of one of their girls in action! Whilst the ladies were pounding the pavements and being cheered on by their proud family members, we were busy preparing the delicate slow-roasted pork, feta skewers for the 3 vegetarian guests and freshly made coleslaw and side salads. For us it doesn't matter how large or small the party is; we put just as much care and love into preparing food for intimate back garden gatherings, as we do for massive outdoor weddings!
With the race run and Debbie's group of fundraising friends doing their family and their charity proud, it was time for everyone to celebrate with Hog Roast Trafford's high quality post-race buffet! Debbie's mum was amazed at how we had managed to prepare everything from scratch and time our service perfectly with the end of the run! Everyone loved the food and whilst they all had the best of intentions with regards to saving some for the returning runners, no one could resist coming back for seconds!