The Hog Roast Swinton team left terra firma behind last weekend and spent the day on a luxury yacht catering for the wedding reception of Michaela and Richard and their 50 guests! The bride and groom had been having trouble finding caterers who were up to the task of providing an elegant wedding breakfast on their floating venue, but as they discovered, when we say we can cook absolutely anywhere, we mean it! Whether we are in a traditional function room or at a somewhat quirkier venue like this one, we still deliver the same awesome level of food and service!
We were given a quick tour of the rather plush and spacious boat, which had been attractively adorned with ribbons and balloons for the wedding party, then we got down to business. Adapting quickly to our new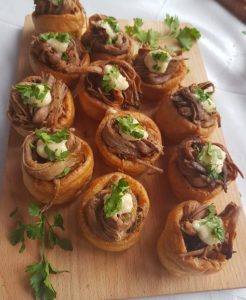 environment with our usual highly adaptable approach, we swiftly found our sea legs (well, marina legs anyway!) and set about preparing the sophisticated menu. Michaela and Richard had chosen an array of canapes to get the party started, including mini Yorkshire puddings with roast beef, wild mushroom bouchees and smoked salmon, followed by organic whole roasted chicken, rather than a traditional hog roast for the main course, along with our homemade light and tasty quiche for the vegetarian option. All of this delightful spread was accompanied by an enticing array of salads and roast potatoes and it was all made from scratch on the yacht by our super Hog Roast Swinton caterers!
The bride made a remarkably elegant entrance it has to be said, especially as she had to walk up with gang plank in a rather long dress to get on board! Trips deftly avoided, Michaela and her new husband surveyed the scene that awaited them on deck with delight. Our professional front of house staff (or front of yacht staff on this occasion!) welcomed the happy couple and their guests on board with a tempting platter of individually handmade canapes and a glass of bubbly. We were asked to hold off on serving the rest of the meal for 45 minutes, whilst everyone mingled, congratulated the bride and groom and of course, took lots of photos of this very novel wedding reception venue!
As requested we were ready to serve exactly when the couple had asked us to and both the meat eating and vegetarian wedding guests alike loved every morsel of the food! It was a unique wedding venue, with equally unique food, courtesy of Hog Roast Swinton!