While people often think of hog roast centrepieces being featured at lavish weddings and huge corporate functions, Hog Roast Irlam often caters much smaller affairs too. Whatever you have in mind, and regardless of the number of guests invited, our chefs and team members are more than happy to provide tasty food at an affordable price. You may be thinking of having an informal birthday celebration at home, where we can cook you our hog roast rolls or meat, veg and potatoes, or an intimate engagement or retirement party at a local hotel or pub, where we cook your favourite spit-roasted meat or a barbecue. We have many options to choose from and we never limit our services to just people planning larger events.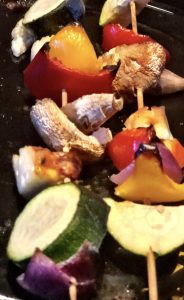 Hog Roast Irlam recently catered Joshua's 30th birthday party in his back garden, where he invited some family members and a handful of friends. With 12 guests to feed, our chef could easily cater this party by himself. Joshua asked us to cook our pigs in buns for 10 of the guests and to also provide a vegetarian option. We have plenty of alternative dishes available for guests with dietary needs, and in this instance, Joshua was happy for us to cook our popular veggie skewers for the two vegetarian guests.
On the day of the birthday do, our Hog Roast Irlam chef arrived a few hours before the teatime service, and met Joshua at his home, where we set up our gazebo and serving table in the back garden. Once the small, fresh, local hog was prepared, it was time to turn the machine on, set to a low temperature and then watch over the pig as it cooked away. As our hog roast machines are gas-powered, they can be used anywhere as we don't need mains electric, and as they are easily moved, we can cook in gardens, parks, beaches or wherever you may have in mind.
Nearer to the time of service, the guests started to arrive to the wonderful aromas only a roasted pig can produce. Once the veggie skewers had been grilled, our chef sliced the bread rolls, put the sauces into dishes and the stuffing into a tray, and then began to carve the meat.