As many millennials these days know gap years are increasingly more and more common as after years of constant education adolescents decide to take a year out and travel before starting their journeys at university or in employment. This week we catered for a coming home party for Ellie who had just returned from a year of travels.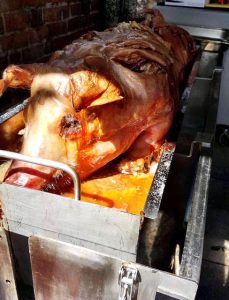 Whilst away Ellie had been all over south east Asia, Australia and China and her parents wanted to provide a delicious meal for her to come home to that would really show her what Mobberley had to offer now she had been to all these exotic places, that's where Hog Roast Mobberley comes in as Ellie's parents had enlisted us to do this. They wanted one of our speciality hog roasts in all its glory and with all the trimmings. There was talk that Ellie had become a vegetarian whilst away exploring the world, but we assured her parents that we could easily cater meat free options too if this was the case. All set to cater for the fifty guests we set off to the venue…
Upon arrival we were amazed, Ellies mum had decorated their house and garden with an around the world theme and it looked amazing. As Ellie wasn't here yet we quickly set to work before her dad picked her up from the airport. We scored the meat and our chef created his homemade applesauce on site. Then we made sure we had plenty of vegetarian options for the guest of honour in the form  of a vegetarian  quiche and vegetarian homemade sausage rolls and halloumi kebabs. Finally, everything was set up and ready for Ellies arrival.
Finally, Ellie arrived, and she burst into tears at the sight of her mum who she hadn't seen for a year. When she could take it in she was in awe at the Hog Roast Mobberley that had been prepared and said that on all her travels this was the best meal she had tasted!