Supplying customers all over the country with mouth-watering hog roasts is one thing that we love to do and that we're proud to excel at, but did you know that we also provide various other types of food for parties and events? From a chicken or lamb spit roast for a birthday celebration to swanky fare for a 3-course sit-down wedding, we have plenty of choices for you to peruse and we're sure they will whet your appetite.
When local hotelier Louise booked us to cater her husband Clayton's birthday party recently, she was shocked to find out that we can do so much more than hog roasts Rusholme. Although she still definitely wanted a slow-roasted pig for this occasion, as it's her other half's favourite food, she said that we'd given her even more reason to return in the future, for the fantastic array of options that we offer. And that was before she'd even enjoyed this hog roast Rusholme! We're a very customer-orientated company, and we want you to be happy with both our delicious food and professional service, and the latter includes offering lots of choices. While we are well-known for cooking an awesome hog roast Rusholme, if you'd rather we provided different food, it's never a problem.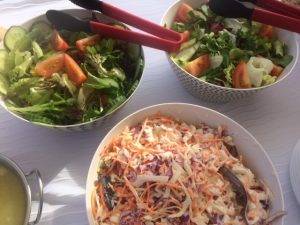 On the day of Clayton's 45th, our team headed off to the couple's hotel early in the morning. This medium-sized hog would take a few hours to cook comfortably, so we prepared it outside in the gardens and set the machine going as soon as possible. For the 50 guests, there would be plenty of meat and crackling to go around. We were asked to provide our massively popular pig in buns, and Louise had also asked us to bring along some fresh salad dishes, too.
Once the pig had reached its cooking peak and was resting, we set about putting together the carrot, orange and sesame salad and coleslaw, and getting the rolls, sauces and stuffing ready. When it was eventually time to feed the hungry hordes, we piled the bread rolls high with slices of juicy pork and salty crackling, topped them with stuffing and apple sauce and watched the reactions of lots of satisfied guests. Then Louise booked us in for a spit roast next month!